We were invited by our friends John and Elena to meet up for a day hike out in the Anza Borrego Desert. Our destination was a windswept area known as The Slot which is a narrow passageway through the eroded badlands below Borrego Mountain.
After a short drive from Jon and Elena's Borrego Spring's home we exited the pavement onto the soft sand dirt road, and bounced our way towards the trail head. We parked the vehicles and followed the trail of footprints leading down into the maze below.
Immediately the sandstone walls rose around us and we found ourselves squeezing through the ever narrowing labyrinth. At certain points we even had to turn sideways to fit thru before continuing further into The Slot.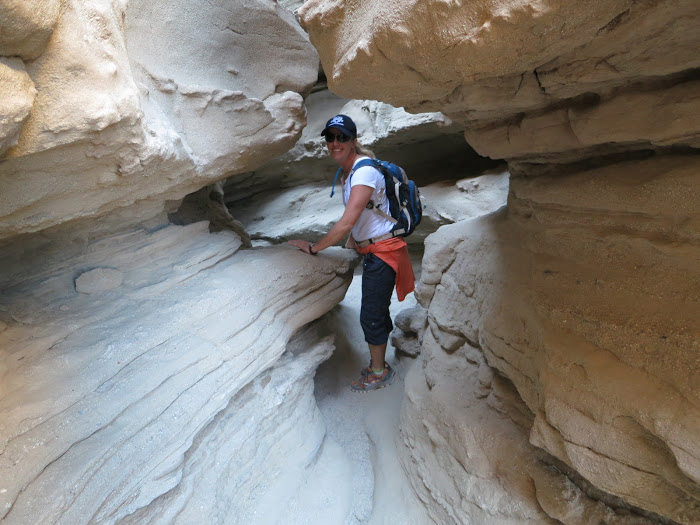 The highlight of the hike is the rock arch, precariously wedged between the two adjacent walls high above our heads. We found ourselves moving a little quicker as we passed beneath it.
😲
We finished off the hike with a quick sprint up the hill to marvel at some of the wind caves and weird formations above The Slot.
Once at the top we decided it was a great place to have lunch and enjoy the amazing view of the badlands far below.
Full Photo Album From Our Trip Through The Slot
The Slot Trail Information And Tips
Start your hike early. It can get busy on the weekends and parking is limited.
GPS Coordinates : 33.18213, -116.21417 (33° 10′ 55.7″N 116° 12′ 51″W)
Bring plenty of water.
Do not attempt this hike if there is chance of rain.
No dogs are allowed on this trail 🐕