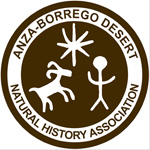 The Anza-Borrego Desert Natural History Association is a non-profit organization that aims to promote the understanding and appreciation of the natural and cultural history of the Anza-Borrego Desert State Park, located in southern California, USA.
The association provides various educational programs, events, and publications to increase public awareness of the desert's unique ecology, geology, and cultural heritage. They also support research and conservation efforts in the park.
Some of the association's activities include guided hikes, lectures, workshops, and community outreach programs. They also maintain a bookstore and visitor center in the park, where visitors can learn more about the desert's flora, fauna, and history, as well as purchase books, maps, and other educational materials.