A Survey of Kumeyaay and Related Artwork in Southern California, Colorado River Corridor, Western Arizona and Baja California.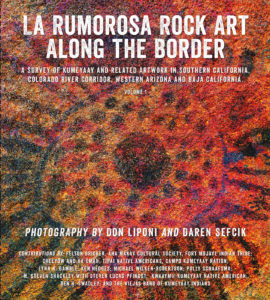 La Rumorosa Rock Art Along the Border is the first publication to focus on the rock art of this region, primarily along the California and Baja California deserts, the southern Colorado River corridor, and southwest Arizona. Almost none of the sites or photographs have ever been published.
This effort is the result of a small group of avocationalists working together with Kumeyaay-Tipai individuals and government agencies over a dedicated four year period. While use was made of existing site records, a meticulous search of the landscape employing newer technology such as DStretch® enhancement rendered many more discoveries. Small traces of pigment often led to the resurrection of complete elements and rock art panels.
The authors hope is to bring forth the largest published survey of La Rumorosa rock art style of the Tipai, and possibly, of the Patayan people. This largely shamanistic and spiritual artform has provided guidance to the Kumeyaay-Tipai people and their ancestors for 10,000 years or more. It is thought that this art played a significant role in promoting and sustaining societal harmony and an intimate relationship with nature based on communication with the spiritual world.
Along with the photographs, the authors have included a review of the literature from both Native Americans and renown archaeologists. There are also interviews of current Tipai living on and off the reservation. Finally, readers are offered a practical path to seeing and understanding more rock art, the wilderness and their own spiritual path.