Join us as we search for an old railroad construction camp deep in the Anza Borrego Desert.
Our trip began with a late afternoon stop at the Lazy Lizard desert bar in Ocotillo. Mary and I had planned to head straight out to the campsite but Linda would have none of it. "We are stopping at the Lazy Lizard, aren't we ?", she inquired as we started to drive up the S2 highway. Hard to argue with that so, three beers, two t-shirts and a few dollars lighter the three of us were heading up the sandy washboard road of Mortero Wash.
After our last  failed attempt to find the railroad construction camp, I was determined to try again. This time I was lucky since recently I had been sent a scan of a topographic map with an "x" marking its' location.
Now, I am a bit embarrassed to admit that I am pretty new school, and need a GPS with a way-point to pretty much find anything. Consequently when I received the map from a member of our Anza Borrego Forum my first question was "OK how do I get this onto my iPhone".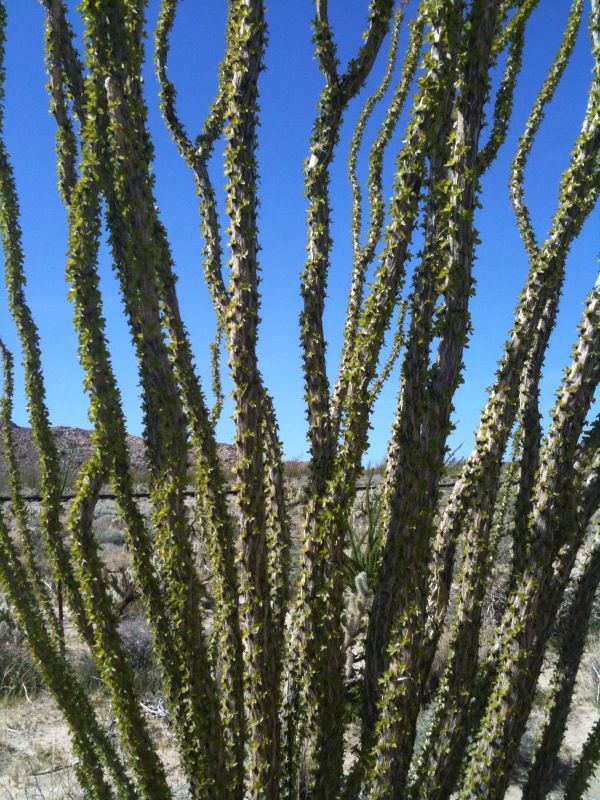 Our hike to the railroad construction camp took us through some of the most beautiful areas of the Anza Borrego Desert. Numerous Ocotillo and other desert flora are in abundance here. The temperature was perfect, and the intense blue sky seemed to accent the large boulders prolific in the area. The Ocotillo were covered with bright green leaves and a few even had bloomed with beautiful orange flowers.
We took a quick detour to check out the pictographs at Indian Hill, and then continued north through the Desert using the map and the GPS to guide us.
The first thing we found were thousands of old rusted tin cans, which I assume were discarded by the railroad workers. Pretty incredible to think that many of the cans were over one hundred years old and were still intact.
The camp was constructed to support the railroad workers who were blasting tunnels through the Carrizo Gorge a century ago, so standing amongst the dilapidated wood structures is like getting a glimpse back in time.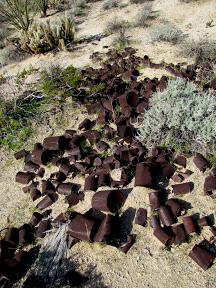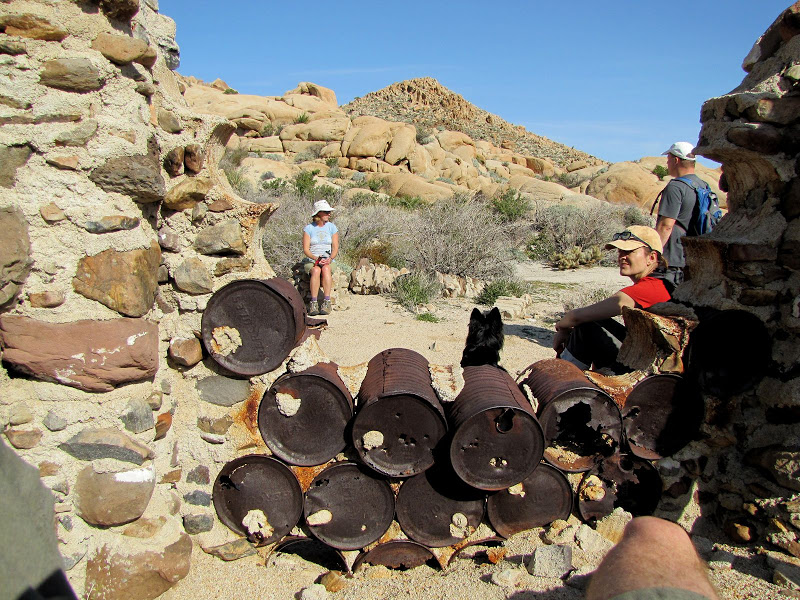 There is one wall of the camp still standing constructed of old blasting powder cans and held together by mortar. There are also the remains of an above ground gravity feed water system which was quite necessary in the arid work conditions the workers had to endure. We easily could have spent a few extra hours exploring as every step seemed to reveal a new treasure.
The railroad construction camp is not easy to find , but if you are interested in the history of this area it is well worth the journey. Who knows I may even send you a map with an "x" on it.
While we were hoping to see more flowers on this trip, it seemed we were 2-3 weeks early. There were signs that this years flower bloom could be a good one. The Ocotillo looked very green and healthy, and we saw a few Chuparosa bushes that were beginning to bloom.
Guess it means we have another excuse to head out to Anza Borrego in a few weeks.

Railroad Construction Camp Photo Album