Just when I feel like I have seen everything there is to see in the Anza Borrego Desert, I read a BLOG or catch a book entry about someplace new and exciting. This time around it was an abandoned railroad camp in the southern end of the park. The ruins are almost 100 years old and were built to support the construction of the Carrizo Gorge Railway.
According to Jerry Schaad's book, the railroad camp ruins are located northwest of Indian Hill so I felt pretty confident we could find them.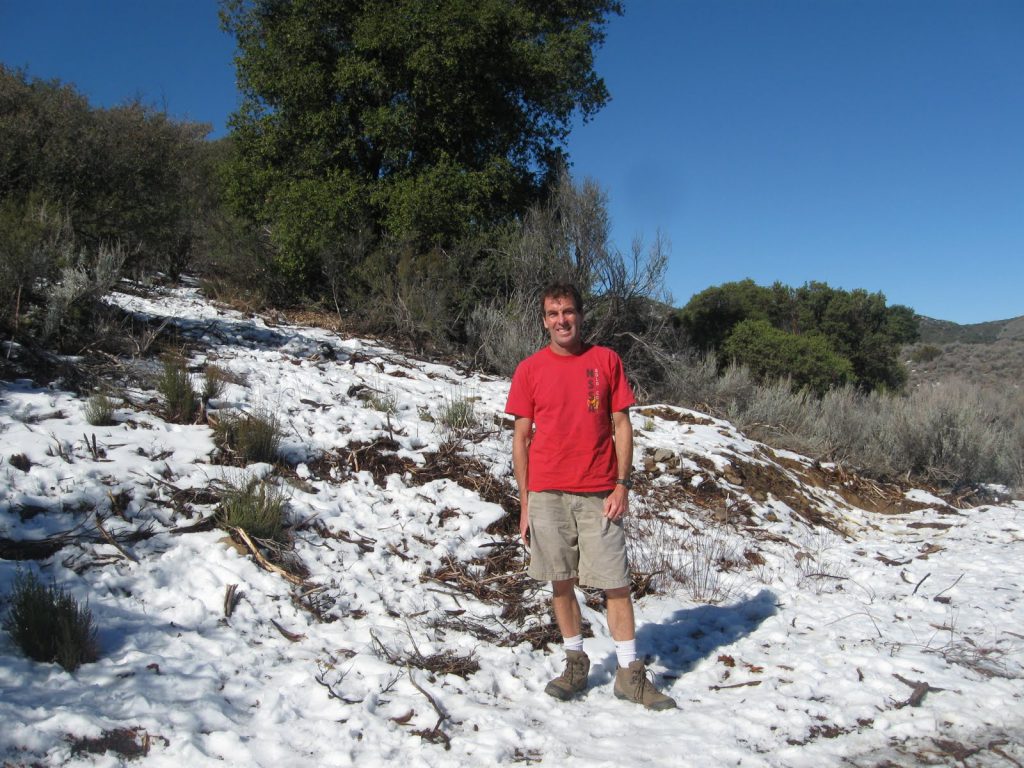 With this fresh on our minds, we packed up the Landcruiser in the late morning on Sunday and headed east. The straight week of heavy rain in San Diego had also brought a lot of snow to the local mountains. Traffic heading up Sunrise Highway towards Mount Laguna was completely stopped. Seems a lot of people wanted to go play in the snow and were busy purchasing Adventure Passes and putting on their tire chains. I breathed a sigh of relief that we were continuing east, far from the hordes of snow lovers. 😀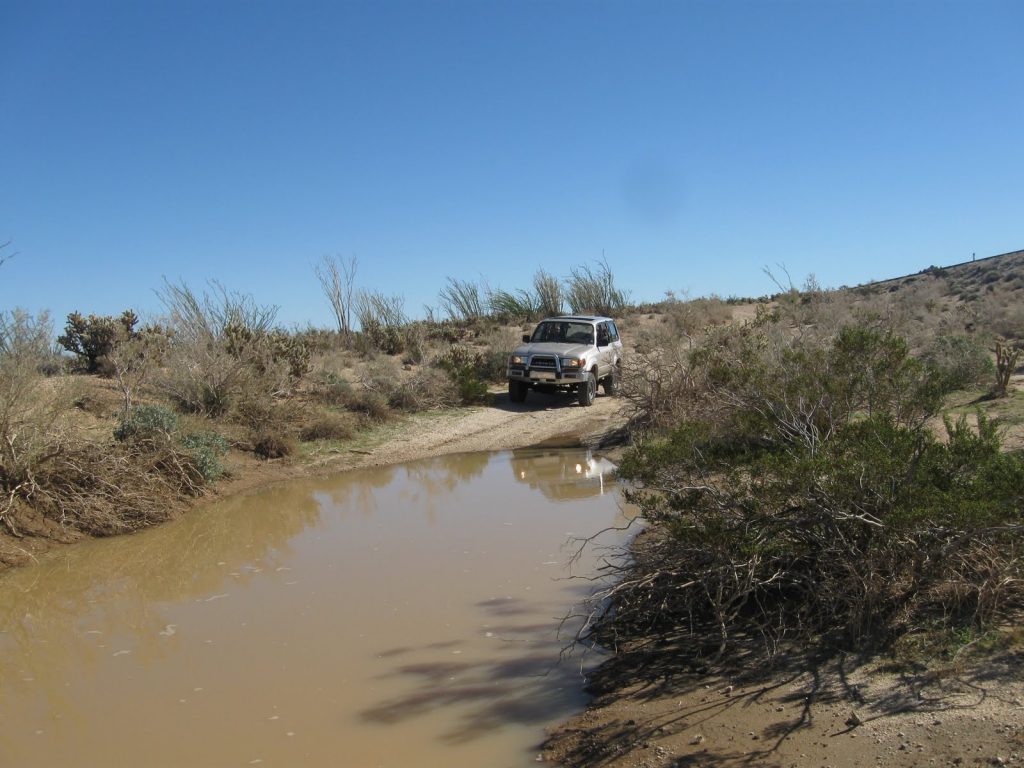 An hour later , we found ourselves driving up the sandy washboard trail of Mortero Canyon. A couple of lifted jeeps passed us on their way out but otherwise this area of the Anza Borrego Desert was empty.
There was evidence of water everywhere. Parts of the trail were completely submerged, and as much as I wanted to test the capabilities of our diesel Toyota Landcruiser, Mary my voice of reason said otherwise.
Since our normal departure point to Indian Hill was a bit "crowded" (2 cars), we stopped for lunch at the end of the trail and tried to figure out the best route. No sooner did we cross the tracks to head up the wash when a herd of Desert Bighorn Sheep appeared.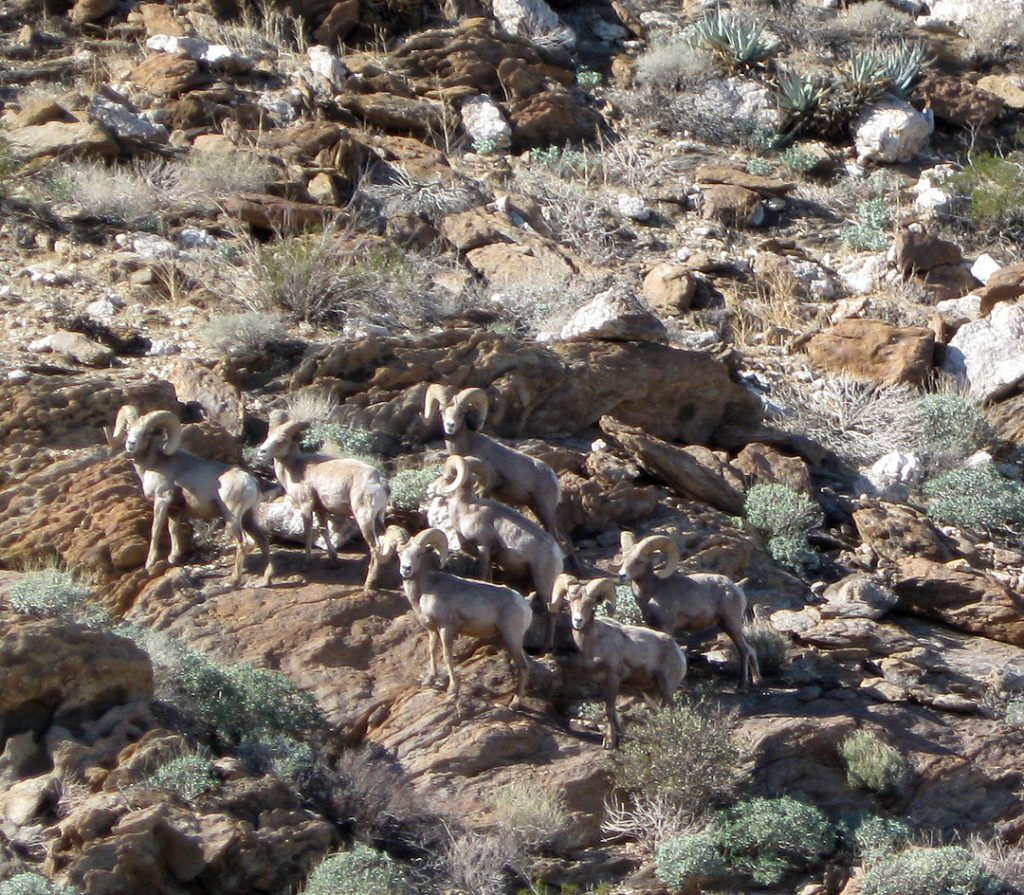 The herd moved silently along the cliff above us and occasionally would stop to make sure we weren't making any sudden moves. Their movements along the crumbling cliff were nothing short of amazing. They moved nimbly from rock to rock just as you or I would step up a curb. Finally, the one large Bighorn male that appeared to be the leader led the group of seven up the cliff and out of sight.
We continued our hike, still in a state of awe and commenting that we need a better camera. In our 15 years coming out to Anza Borrego we have only seen one Desert Bighorn, which illustrates how rare these animals are. To see a herd of seven moving up a cliff in unison is just amazing.
We never were able to find the railroad construction camp which at this point seemed somewhat trivial, but vowed to come back one day and find it. Who knows maybe we will get lucky again. 😉